Cases in which no compensation is provided for delays and denied boarding
If a flight is delayed for more than three hours or passengers are denied boarding, they can assert their rights under the EU Air Passenger Rights Regulation. It entitles passengers to compensation between EUR 250 and EUR 600 subject to certain conditions. If, however, the airline itself is not responsible for the delay, then it has no obligation to pay compensation.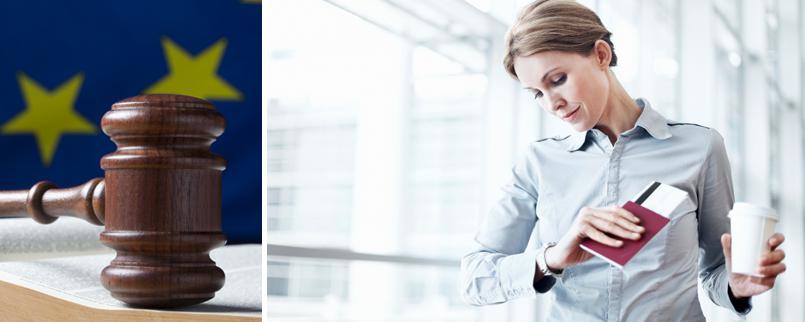 Under the EU Air Passenger Rights Regulation 261/2004, a passenger is not entitled to compensation if:
you arrive at your destination less than 3 hours from the scheduled arrival time
you did not check in on time. Unless notified otherwise, passengers should check in at least 45 minutes before departure (unless their flight has been cancelled)
your flight was operated more than 6 years ago
You were flying on a non-public free or reduced fare that is not available to the public either directly or indirectly.
the passenger was travelling on a free child fare
The flight in question was affected by extraordinary circumstances
What are extraordinary circumstances?
"Extraordinary circumstances" are situations that lead to a delay or flight cancellation - "even though all reasonable measures had been taken by the air carrier concerned to avoid the delays or cancellations". But this definition set out in the EU Regulation leaves considerable room for interpretation, which is why legal action is brought time and again. In general, no compensation is provided for strikes (be it involving the airport staff or airline employees), bad weather, bird strikes, or lightning strikes.
Who is entitled to compensation in principle?
In general, passengers who face a considerable delay or whose flight is cancelled could be entitled to compensation if they start their trip at an EU airport or land at an EU airport (in this case, the airline must be headquartered in the EU) and have a valid ticket. The EU Air Passenger Rights Regulation also applies to travellers who either booked a package holiday, used a low-cost airline, were on a business trip, used free or reduced tickets under customer loyalty or promotional programs, or payed a child's fare.
Airlines may also be obliged to pay compensation if passengers are denied boarding because their flight is overbooked. Passengers are not, however, eligible for compensation if at least one of the following scenarios applies:
No valid ticket
No travel documents
Free child fare
Passenger is intoxicated
Passenger has an infectious disease
Passenger poses a safety risk

Even in extraordinary circumstances: additional services are a must
Regardless of whether the airline itself is responsible for the delayed departure or flight cancellation - it must provide you with additional services. So if a flight is delayed due to extraordinary circumstances or is cancelled, you have the right to certain services free of charge. These include snacks/meals and refreshments, as well as two telephone calls, fax messages or e-mails.
You are entitled to the following services depending on how long the delay lasts:
| Flight distance | Delay | Your entitlement |
| --- | --- | --- |
| Kurzstrecke bis 1.500 km | More than 2 hours | Snacks, drinks, 2 telephone calls/fax messages/e-mails |
| Medium-haul, 1,500 km - 3,500 km | More than 3 hours | Snacks, drinks, 2 telephone calls/fax messages/e-mails |
| Long-haul, more than 3,500 km | More than 4 hours | Snacks, drinks, 2 telephone calls/fax messages/e-mails |
| All routes | More than 5 hours* | Cancellation of travel and ticket price refund/alternative transport |
| All routes | Flight not until the next morning** | Hotel accommodation including return transfers |
*More than 5 hours
If the flight delay results in missing an important appointment, a family event or a business meeting, then the EU Regulation gives you various options when it comes to compensation for the inconvenience caused: For flights with several legs, you can arrange to be flown back to your departure airport. Or, you can opt not to fly at all and have the airline refund you for the ticket price. Finally, you can also get the airline to arrange the earliest alternative flight or train ticket to your final destination.
**Delayed until the following day
If your flight is delayed until the next day, then the airlines usually organises the overnight accommodation in a hotel, as well as transportation between the hotel and the airport. Therefore enquire with the airline first before you go ahead and book a room yourself - after all, you don't want to be left having to cover the costs because the airline booked a hotel room for you at the same time. If the airline leaves the booking process to you, ask for written confirmation that it is happy for you to do so.
Compensation for flight delays, cancellations and denied boarding
If there are no extraordinary circumstances at play and you meet all of the above requirements, you could be entitled to flat-rate compensation for the inconvenience caused.
The amount of compensation for flight delays lasting more than 4 hours, cancellations or denied boarding is based on a scale set out in the EU Air Passenger Rights Regulation.This scale is based on the total flight distance covered, which can consist of 2 or more legs as part of the same booking. Under the EU Regulation, passengers are entitled to EUR 250 for flights covering a total distance of less than 1,500 kilometres. Passengers set to travel between 1,500 and 3,500 kilometres will receive EUR 400 from their airline, a figure that rises to EUR 600 for flights covering a distance of more than 3,500 kilometres.
Am I entitled to compensation:
The large number of judgments set out above just goes to show that interpreting the Air Passenger Rights Regulation isn't always easy and is anything but crystal clear. Vaguely defined legal terms such as "arrival time" or "extraordinary circumstances" have made it, and indeed still make it, difficult to enforce air passenger rights. There was an urgent need for landmark court decisions - a large number of passengers and air passenger rights supporters like Flightright claimed compensation in court and set precedents in some cases.
As the leading legal services provider for air passenger rights, we are familiar with all of the developments and judgments in relation to the Air Passenger Rights Regulation. We know all of the judgments and can assess your chances of compensation in a matter of a few minutes. This initial consultation is free of charge.
Simply provide us with your flight data, and we will evaluate right away whether or not you're covered under the regulation. If you are entitled to compensation, then you can instruct us to start asserting your rights at the touch of a button - saving you time and any disputes with the airlines. We claim your compensation for you and are prepared to go to court if need be, subject to no extra cost. We have already successfully enforced a very large number of cases involving flight delays, denied boarding and cancellation and paid over EUR 150,000,000 out to our customers.
Checklist: When are you not entitled to cash compensation?
There are extraordinary circumstances at play, e.g. strike, bad weather, bird strike or airspace closures.
You arrive at your destination in less than 3 hours
You did not check in on time
Your flight was operated more than 6 years ago
You were flying on a free or reduced fare that is not available to the public either directly or indirectly
Check your claim in 2 minutes
Share this article with friends