Flight delays and cancellations due to bad weather
If passengers cannot fly (on time) due to severe storms, thick fog or an ash cloud, then they are generally not entitled to compensation.Bad weather is considered one of the "extraordinary circumstances" referred to in Article 5 III of Regulation (EC) No. 261/2004.The airline cannot influence these circumstances or stop them from arising, even if "all reasonable measures had been taken by the air carrier concerned to avoid the delays or cancellations" - according to the EU Regulation.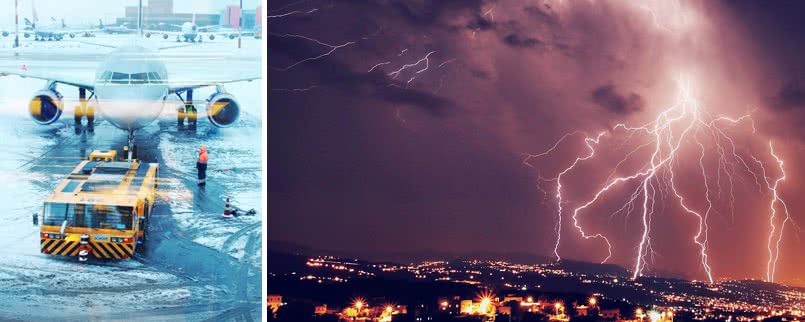 Key bad weather judgments
However, since the EU Regulation does not provide a clear definition of "extraordinary circumstances", there is still a lot of room for interpretation. In recent years, various claims have refined the term "extraordinary circumstances".There have been a number of landmark judgements relating to bad weather that we have put together for you here:
No compensation
In general, air passengers are not entitled to compensation for bad weather conditions if the following types of bad weather occur:
Ash cloud: This sort of natural catastrophe is described as a case of "force majeure". Air traffic is restricted and flight bans have to be imposed. The ash cloud impedes visibility for the pilots and ash particles can also affect the sensors in altitude and speed measuring devices.
Bad weather: If the weather is exceptionally bad, flights are often grounded or have to take off later. Extreme weather conditions like snow, storms, sleet and fog release the airlines from their obligation to pay compensation.
Thunderstorms: The District Court (Landgericht) of Darmstadt ruled that there is also no entitlement to compensation if a previous flight had to make an emergency landing due to a thunderstorm, meaning that the following flight was delayed or cancelled as a result.(District Court of Darmstadt, judgment of 6 November 2013 – 7 S 208/12)
Headwind: Generally, air passengers are not entitled to compensation in cases of extreme headwind.
Lightning strike: If the previous flight was hit by lightning, meaning that the next flight is delayed or cancelled, then passengers are in most cases not entitled to compensation.
Special cases: You can claim compensation in these cases
Extreme weather conditions almost always release the airlines from their obligation to pay compensation. There are, however, a few special cases in which passengers have received compensation. The following judgments were made in passengers' favour.
Anti-freeze: Airlines have to have enough anti-freeze or de-icing agent on hand to cope with heavy snowfall or sleet. If a flight is significantly delayed because there is no de-icing agent or the de-icing process took a considerable length of time, then this cannot be described as "extraordinary circumstances". Passengers are entitled to compensation. These conditions are based on the Local Court (Amtsgericht) of Frankfurt confirmed previous court decisions (judgment of 22 May 2015, case ref.29 C 286/15 [85]).
This list only shows a few of the judgments relating to bad weather.
Compensation under the EU Regulation
In general, air passengers are not entitled to any compensation if their flight is heavily delayed or cancelled due to bad weather, because the EU Air Passenger Rights Regulation describes these scenarios as "extraordinary circumstances". In the special cases referred to above, however, passengers are entitled to claim compensation. It is crucial, in this respect, that their flight takes off from an EU airport or lands at an EU airport (airline is headquartered in the EU).They also have to have a valid ticket. This includes free or reduced tickets under customer loyalty/promotional programmes.
How much compensation can I get for delays lasting for more than 3 hours, cancellations or denied boarding? The EU Air Passenger Rights Regulation sets out a precise scale of compensation per person. The compensation is based on the total distance covered by the flight. Passengers are entitled to €250 for flights covering a distance of less than 1,500 km. Passengers set to travel between 1,500 and 3,500 kilometres will receive €400 from their airline, a figure that rises to €600 for flights covering a distance of more than 3,500 kilometres.
Can I get compensation?
We can check your entitlement quickly and easily. Simply enter your flight data. We look at whether the Air Passenger Rights Regulation applies, and then provide you with an initial evaluation right away. If you are entitled to compensation, then you can instruct us to start asserting your rights at the touch of a button. Save yourself the hassle of long, drawn-out and stressful disputes with the airline. Make the most of our experience. We have already successfully enforced a large number of compensation claims for flight delays, denied boarding and cancellation and paid over €150,000,000 out to our customers.
Come rain or shine: You are always entitled to food and refreshments
The airline always has to provide you with services like food and refreshments regardless of whether your flight is delayed or cancelled due to extraordinary circumstances or for other reasons. If you are stuck at the airport, you are entitled to free services in the form of food and refreshments, for example. The longer your flight is delayed, the more you are entitled to.
Below is a chart that details what you're entitled to:
| Flight distance | Delay | Your entitlement |
| --- | --- | --- |
| Short-haul, i.e. up to 1,500 km | More than 2 hours | Snacks, drinks, 2 telephone calls/fax messages/emails |
| Medium-haul, 1,500 km - 3,500 km | More than 3 hours | Snacks, drinks, 2 telephone calls/fax messages/emails |
| Long-haul, more than 3,500 km | More than 4 hours | Snacks, drinks, 2 telephone calls/fax messages/emails |
| All routes | More than 5 hours* | Cancellation of travel and ticket price refund/alternative transport |
| All routes | Flight the next day** | Hotel accommodation including return transfers |
*More than 5 hours
Sometimes, it is not worth taking a flight if it is going to leave 5 hours late. This might be because you will have missed a family party or a business meeting, or because the short break you had planned for the weekend has now been reduced to only a few hours. Thanks to the EU Regulation, the following options are available to you: For flights with several legs, you can fly back to your point of origin. Or, you can opt not to fly at all - in this case, the airline will reimburse you for the ticket costs. You can also get the airline to arrange the fastest possible alternative transport (flight or rail) to your destination for you.
**Flight the next day
If the flight is delayed until the next day, many airlines have set hotels that they use to accommodate air passengers. This is why the airlines often organise the overnight accommodation, as well as the transfers between the hotel and the airport themselves. So speak to the airline first before you go ahead and book a hotel yourself and ask specifically whether they have already organised a room for you. After all, you don't want to be left having to pay the overnight accommodation costs because 2 rooms have been reserved for you. If the airline leaves the booking process to you, ask for written confirmation.
"Bad weather" as an excuse
When it comes to safety, many air passengers agree: if the airlines cannot guarantee a safe flight due to heavy snow or gale-force winds, then passengers would rather remain on the ground until the weather has settled down. They are then happy to accept a delay, even if that means missing connecting flights or appointments. Safety comes first. This is consistent with the definition in the EU Regulation, which states that passengers are not entitled to compensation in extraordinary circumstances like bad weather.
Unfortunately, however, airlines often use bad weather as nothing other than an excuse for flight delays and cancellations. This might be the case if other flights are operating as normal and only your flight will remain on the ground. As the airspace hasn't been closed, your flight could take off. But you have to be able to prove it. Flightright has access to flight databases that show exactly which flights took off when and from which airports - and which did not. This makes it much easier to enforce potential compensation claims.
One excuse that is used a lot is that the plane can't be de-iced. A scenario in which a flight is cancelled because the temperatures fall below zero and there is no de-icing agent was often declared as "extraordinary circumstances" by the airlines in the past. Fortunately, court judgments are now available holding the airline responsible for the lack of de-icing. Airlines have to have a sufficient supply of de-icing agent available and use it in good time to ensure that flights can run to schedule. Often, weather-related delays also mean that the crew members end up exceeding the maximum permitted working hours, which is why flights are cancelled. Again, these are not extraordinary circumstances and passengers are entitled to compensation.
What should I do in the event of bad weather?
Collect as much information as you can before your fly. Sometimes, you can see bad weather coming - has a storm been announced that could affect your flight? Planes often remain on the ground due to snowstorms or ash clouds - this can last days or, in the extreme case of the Eyjafjallajökull volcano in 2010, even weeks. Warnings relating to imminent weather changes are often issued early on.
Before your flight:
How can you protect yourself against financial implications? There are insurance policies available to give you the protection you need so that you aren't left shouldering the cost of a cancelled flight. But what insurance policy is the right one? In general, travel cancellation insurance only steps in to cover unforeseeable events relating to the traveller as an individual, e.g. sudden illness. Travel curtailment insurance, on the other hand, certainly does provide cover if you have to cancel your trip due to force majeure (bad weather).Before embarking on your trip, ask your insurer specifically whether forces of nature are included in the scope of cover.
At the airport:
Check your flight status on a regular basis. It is always good to know whether previous flights have been delayed or the flight has been cancelled. Some flight operators have their own apps. Independent websites can also be helpful. If your flight is delayed, contact your airline early on. If the situation is unclear, turn up at the gate on time. Sometimes, even during major storms, brief windows emerge that allow flights to take off and land.
Checklist: When are you not entitled to cash compensation?
In general, no compensation is provided if one of these scenarios applies to you and your flight:
You arrived less than 3 hours late at your destination
You did not check in on time
Your flight was operated more than 6 years ago
You do not have a valid ticket
You do not have any travel documents
You did not check in for your flight on time (generally 45 minutes before departure).
You were flying on a non-public, free/reduced fare
You were using a free child fare
You were denied boarding because you were intoxicated, had a dangerous contagious disease or posed a threat to security on board the aircraft
Check your claim in 2 minutes
Share this article with friends