The EU Air Passenger Rights Regulation
European air passengers have been enjoying the special protection offered by EU Regulation 261/2004 since 2004. The Regulation finally went to great lengths to confirm that denied boarding, flight cancellations and heavy delays are a nuisance for air passengers that can cause them a great deal of inconvenience.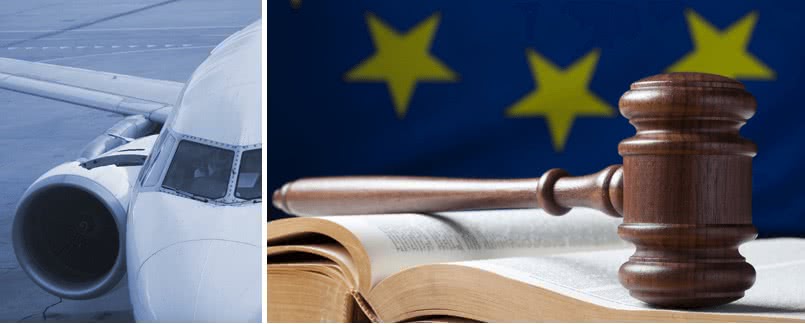 Why is the Air Passenger Rights Regulation in place?
EU Regulation 261 was passed in 2004 due to the large number of passengers that were (and indeed still are) denied boarding against their will - as well as the large number of unannounced cancellations and major delays. Incidentally, the full namen of the Regulation is:"Regulation (EC) No 261/2004 of the European Parliament and of the Council of 11 February 2004 establishing common rules on compensation and assistance to passengers in the event of denied boarding and of cancellation or long delay of flights."The Regulation imposed a number of obligations on airlines in the interests of consumer protection. Among other things, it created a system of compensation payments to provide air passengers with fundamental protection.
What sort of regulations does the Air Passenger Rights Regulation entail exactly?
It sets out the rights you have if you are denied boarding against your will, or if your is cancelled or delayed
It explains when you are entitled to compensation between €250 and €600
Additional services the airline has to provide
Explains your alternative options in event of cancellations or major delays
How you have to be informed of cancellations and your rights
Sets out what sort of special treatment people with limited mobility and their accompanying passengers can expect
Who does the EU Regulation apply to?
All passengers with a confirmed booking and ticket who start their trip at an EU airport, or landing in an EU airport, provided that the airline is headquartered in the EU
It doesn't matter whether the passengers are
booked on a package holiday
using a low-cost airline
on a business trip or
children (on a paid ticket) or
flying on free or reduced tickets under customer loyalty or promotional programmes.
The EU Regulation does not apply to:
Passengers travelling on a free or reduced fare that is not available to the public either directly or indirectly.
Air passengers that did not check in on time. Unless notified otherwise, passengers should check in at least 45 minutes before departure (unless their flight has been cancelled)
What do I get if my flight is delayed?
If your flight is delayed for more than 3 hours, you are entitled to compensation from the airline from between EUR 250 and EUR 600 per person. If you are on a family holiday or travelling as a group, then the compensation can be claimed for each individual person. This is subject to the provison that the airline itself is responsible for the delay. In addition, your problem flight must have been operated no more than 6 years ago. The amount of the compensation payment depends on the flight distance covered: Passengers are entitled to EUR 250 for flights covering a distance of less than 1,500 km, EUR 400 for flights covering 1,500 km to 3,500 km and EUR 600 for flights covering more than 3,500 km.
IMPORTANT: Many passengers don't realise that it doesn't matter whether the airline has already provided you with vouchers as a form of compensation. These vouchers are often of inadequate value. You are entitled to compensation nonetheless.
How do I get my compensation?
Make the most of our legal expertise. Unless you are an air travel expert, trying to claim your compensation yourself is often futile. Many airlines block or ignore your enquiries, try to placate you or twist the facts so that they don't need to pay compensation. As an air passenger, you are often left completely on your own. We help passengers enforce their rights and get their money back for them. Because we are familiar with the tricks and excuses that the airlines use and the arguments and evidence needed to successfully enforce a claim to compensation, we have already won more than EUR 150 million for our customers to date.
Simply use our compensation calculator to perform a free check on your flight. If you are eligible for compensation, you can instruct us to start asserting your rights at the touch of a button.
INFO: Have you been delayed during a business trip?
Incidentally, business travellers are entitled to compensation as well. Contrary to popular opinion, it is not the employer, but rather travellers themselves that are entitled to the compensation. Maybe you are still entitled to money for your last business trip? Simply enter your flight details and we'll tell you what you are entitled to. You don't need any travel documents.
What do I get if I am denied boarding or my flight is cancelled?
You can also be entitled to up to EUR 600 in compensation if you were denied boarding against your will, although you checked in on time and had all of your travel documents with you. If your flight is cancelled, you are also entitled to compensation of up to €600 under EU Regulation 261/2004 subject to certain conditions. If you want to know whether you are entitled to compensation under the Air Passenger Rights Regulation for your cancelled flight or because you were denied boarding, simply enter your flight details here.
What other benefits am I entitled to?
In addition to possible compensation payments, passengers can expect to receive other services from their airline if their flight is heavily delayed. Air Passenger Rights Regulation 261/2004 sets out the following services:
| | | |
| --- | --- | --- |
| For waiting times of 2 hours or more | Flights of up to 1500 km | Free drinks, meals and two telephone calls, e-mails or fax messages |
| For waiting times of 3 hours or more | Flights 1500 - 3500 km | Free drinks, meals and two telephone calls, e-mails or fax messages |
| For waiting times of 4 hours or more | Flights of 3500 km or more | Free drinks, meals and two telephone calls, e-mails or fax messages |
| For waiting times of 5 hours or more | All flights | Withdrawal from the contract of carriage + refund for the flight price |
| Flight delayed until the next day | All flights | Overnight accommodation in a hotel, including transfers |

Airlines have to inform passengers of their air passenger rights
Airlines have to provide their customers with clear and full information on their passenger rights, which includes providing them with information at the time of check-in, by handing out written information in the event of delays, as well as on their own website.
The District Court of Berlin (judgment of 8 October 2015, case ref.:52 O 102/15) ruled, in a judgment that is not yet final and non-appealable, that the airline Germania is no longer allowed to give its customers incorrect information on their rights in the event of major delays and cases of overbooking. An information sheet published on the Germania website on compensation and support services in the event of overbooking, cancellations and major delays had rendered the legal rights of customers in a manner that was misleading and, in some cases, incorrect. By way of example, no reference was made to compensation payments of between EUR 250 and EUR 600.The information also failed to mention the option of getting a refund for the price of the ticket, or being offered a free flight back to the point of origin in the event of a cancellation.
What are extraordinary circumstances?
The EU Regulation also mentions "extraordinary circumstances". These release the airlines from any obligation to pay compensation because the circumstances are outside of the airlines' control. This is why many airlines try to blame delays and cancellations on extraordinary circumstances so that they don't need to pay the compensation that passengers are entitled to in such cases, it is often very difficult for air passengers to prove the contrary without professional help.
But what does the term "extraordinary circumstances" actually mean. Although they are mentioned in the EU Regulation, no clear definition is provided. Extraordinary circumstances refers to situations that make it impossible for the airlines to adhere to the original flight schedule - "even though all reasonable measures had been taken by the air carrier concerned to avoid the delays or cancellations", as the Regulation says."Such circumstances may, in particular, occur in cases of political instability, meteorological conditions incompatible with the operation of the flight concerned, security risks, unexpected flight safety shortcomings and strikes that affect the operation of an operating air carrier."
As this definition also leaves room for interpretation because the legal terms are not clearly defined, the Air Passenger Rights Regulation can be difficult to apply. This is why claims continually end up being heard before a court of appeal, even if the circumstances are only slightly different. The German Federal High Court of Justice (BGH) and the European Court of Justice (ECJ) often deal with such cases involving flight delays and cancellations.
Do I get compensation in cases involving technical problems?
The European Court of Justice confirmed it again in a recent judgment (17 September 2015, case ref.C-257/14):Technical problems that arise despite regular maintenance operations cannot constitute extraordinary circumstances. As a result, they do not release airlines from the obligation to pay compensation to passengers (EUR 250 to EUR 600) in the event that a flight is cancelled. This once again confirmed previous court decisions of the ECJ and BGH.

The most common excuses and tricks used by the airlines
It is not just the often vaguely defined legal definitions in Regulation 261/2004 that make it easy for airlines to get away with not paying compensation to passengers. The airlines are also extremely inventive. In order to avoid having to pay passengers the compensation of up to EUR 600 set out in the Regulation, excuses and tricks are the order of the day. We've heard the most common fibs time and again:
"This will be a costly matter" - threat of court proceedings as a deterrent
Many airlines like Ryanair, Vueling, Iberia, Turkish Airlines, Swiss and easyjet want to use the threat of expensive court proceedings to put passengers off. Our experience has shown that they block customer enquiries until the customers or their legal representatives are forced to go to court. But that's not a problem for Flightright customers: We assume the full cost risk and we are very successful in court (success rate of more than 98 percent).
"Shhh…" - keeping the reasons behind a delay secret
Passengers who are waiting are rarely informed about the reasons behind delays or cancellations at short notice. After all, the less they know, the better the airline's chance that it won't need to pay compensation. If an airline staff member does let it "slip" that a technical defect is the reason behind the delay, then this is denied later on. After all, technical defects generally mean that the airline has to pay compensation of up to EUR 600.
"No, that's not what happened" - giving out legally inaccurate information
With a bit of imagination, claims to compensation can easily be avoided. Or at least, that's what the airlines think, which is why they want their customers to remain in the dark about their rights. More specifically, they claim that they are not responsible for technical defects or that children/minors are not entitled to any compensation at all, even if they paid for their ticket - which is of course not true.
"But the weather was bad!" - the weather lie
Airlines often resort to blaming bad weather on the incoming flights as a reason for a delayed flight. One common excuse is a reference to bad weather affecting the incoming flight, which stopped a flight from taking off on time. At Flightright, we has access to complex databases that can determine whether snow and storms are the reason behind a delay. We can also prove that the delay was an isolated case, and that flights operated by other airlines took off on time in the same place and at the same time. This means that the "weather lie" can soon be refuted.
"This voucher is all you're entitled to" - vouchers instead of compensation
Air Berlin, Air Europa, Ryanair and other airlines often resort to compensating their customers with cheap vouchers or bonus miles. This is a cost-effective tactic as the value of the vouchers is often much lower than the compensation amounts set out by law. This is why it is common practice for passengers who would be entitled to EUR 600 be offered a EUR 20 voucher. Many customers accept this offer because they consider themselves lucky to have received any reaction from the airline at all.
"Please wait, please wait..." - unavailable customer service teams
The customer service teams at foreign airlines like Vueling, Ryanair and easyjet are particularly difficult to reach - or even to locate in the first place. Finding the contact details often proves to be a long and stressful process. Passengers don't know who to address their complaints and claims to, meaning that they stumble at the very first hurdle. If passengers nevertheless managed to address their claims to the right place, then the airlines often remain perseveringly silent and the customers give up disheartened and frustrated. We have already made claims against 318 airlines and know exactly who the right contacts are and how to negotiate with them.
"Please start by completing this 36-page form" - bureaucratic hurdles
Swiss, for example, has another delay tactic up its sleeve: it gets passengers to complete long and complicated forms and to provide large quantities of information, despite the fact that this is a completely unnecessary process. After all, the airlines only need to look at their passenger lists to see who was on board. With our help, it is much easier for you to assert your claims: in general, all you need to do is to enter your name, the flight number and the flight date in the compensation calculator - this gives us the information we need to check and enforce your claims.
Check your claim in 2 minutes
Share this article with friends